Twitter #hours
Twitter can be a great tool for marketing as it's free, quick and you can do it yourself. Alongside the day to day drip-feed of entertaining content, it can also be used as a powerful B2B (or in some cases B2C) marketing tool. Here's my tips on using #hours.
A few basics to start…
Tweets are public. You don't have to be following someone to see what they tweet, unless you have your security settings locked down.
@ in front of someone's name anywhere in a tweet addresses a tweet directly to them. The world can still see it, but they will get a notification that you've said it to them (the same as tagging someone on Facebook).
[MM_Member_Decision isMember='false'] This resource is only available to members. To access it,
login
or
join now
as a free member [/MM_Member_Decision]
[MM_Member_Decision membershipId='1|2|3|4']
If you @ someone, it needs to be their twitter address, not the name that shows on the screen. For example, my account shows as wellbalanced but you'd need to put @wellbalanceduk to get my attention. When you start typing @ and the name, twitter makes suggestions so you know you've got it right.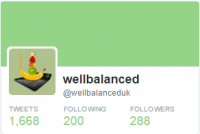 # in front of words and phrases makes your tweet show up more easily in searches. When topics are trending, it's a measurement of how many people are using the # for that topic. That's how the #hours work…
Don't worry about how many people follow you. For the regular content you provide, you need followers, but using # and the twitter #hours can get you in front of more people than you will ever be able to collect as followers. And you'll probably pick up followers every week anyway.
Here's how it works…
I have 288 followers. This means that when I tweet, the things I tweet show up in the newsfeed of each of 288 people or businesses.
I follow 200 people. So when I look at my timeline, I have the tweets from 200 people in my timeline.
During the #hours, everyone is searching for the same topic (in my case, only tweets containing #solihullhour). It may be that none of these people follow me and that I follow none of them.
On average, 1000+ people take part in #solihullhour each week. That's 1000 people/businesses who will see my tweets whether they follow me or not.
Then there's retweets. If I tweet something, it goes to 288 people. If three other people like me retweet it, that's over 1000 people seeing that tweet.
So I've tweeted once, got three retweets, and my tweet has hit over 2000 newsfeeds. If your content is right, the odds are that one of those 2000 people will pay attention and get in touch in future. Or refer you to a colleague or friend.
So how do you actually use the #hours?
You need a good mix of social tweets and promotional tweets. Don't think about it as promotion, think about it as networking. The more people you engage on a personal/social level, the more people will share your information, and so the wider your reach.
I use Tweetdeck to schedule my promotional tweets. This means it can be done in advance and planned carefully, and you can relax and join in with the banter when the hour is live. You can use other apps such as Hootsuite – find the one that makes the most sense to you.
I would advise scheduling 4-5 tweets.

One tweet saying hello
One tweet saying goodbye and thanks (for follows and retweets).
Two or Three promotional tweets

As well as making your tweets relevant to your ideal client, they have to be eye-catching in order to stand out. If there are 1000 people tweeting five times (and most people tweet more) you have to show up in the midst of 5000 other tweets. To achieve this, use images, gifs and videos. (When using twitter on a pc or laptop, you can access a library of gifs to liven up your tweets! Choose wisely…)
Be creative with your tweets – the most popular ones I've put out there have been a bit suggestive or totally unrelated to bookkeeping!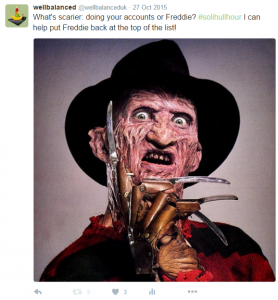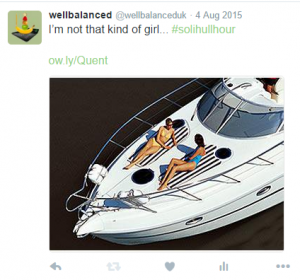 Sounds obvious, but remember to put the relevant # in your tweet and spell it correctly! I've tweeted a few times and wondered why I've had no response, and it's because I've misspelt the #!
By the time you've added the #, an image and a link to a website or blog, you will run out of characters quickly, so keep it short and to the point.
Time to go online!
It can be a nightmare trying to keep up with the tweets if your #hour is a busy one.
I find it best to have two tabs open. In one, use the search bar at the top to find the #hour you're taking part in and click on Live (Top Tweets filters too much out).Then open another and click on Notifications.
Start with the search tab. As you scroll down the newsfeed respond to people:
If someone asks a question, answer it (even if it's just "how are you?")
If a tweet catches your eye, retweet it (preferably including a comment, @ the person and the # for the hour.)
Use the heart to like tweets.
Refer then and there using @ if you know someone who would like what's being tweeted.
Then flick over to your Notifications. Look out for notifications that have someone's profile picture against them. These are people interacting directly with you. Respond to them. If someone put something that's hard to respond to, use the heart to like it instead.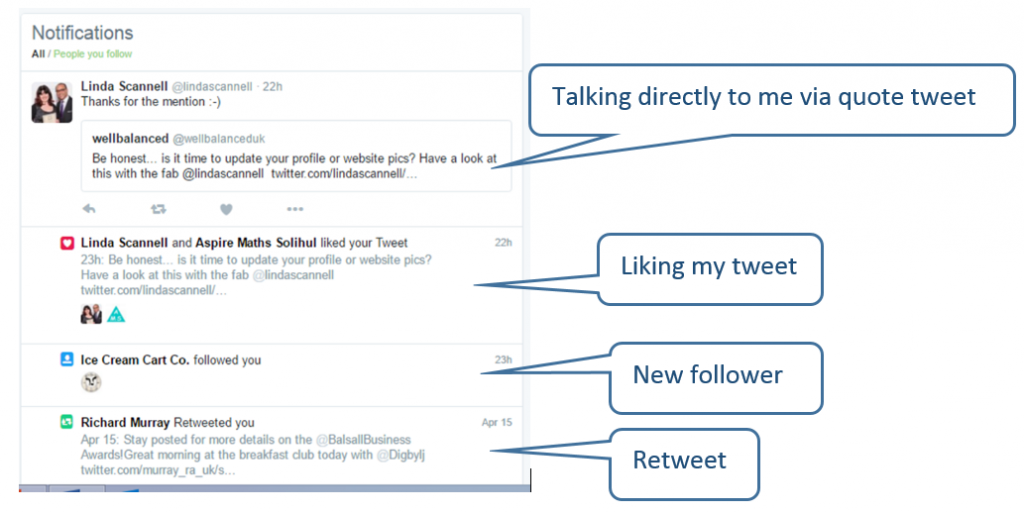 Keep flicking between the two screens and repeat the process for the full hour.
And that's it really. Show up every week, give more than you get and always use the #, even when you're chatting with someone! Simple! [/MM_Member_Decision]
Want more?
Join the exclusive community for bookkeepers for just £1.59
Get your account today with instant access to The Bookkeepers Alliance community. It's overflowing with loads of valuable practice improvement content that will help you to develop the practice of your dreams.